Interstate 90 – I-90 travels between Kittitas County and King County – Seattle to Roslyn – Seattle to Suncadia


Washington State Department of Transportation website. This is a great resource if you drive in WA State.


Make sure to get the WSDOT app for your phone. It's a decent "free" phone app that will help you plan for driving over Snoqualmie Pass as well as the rest of WA State.


RideshareOnline.com is a good resource if you want to try and find people to commute with.
---
Costs of commuting over Snoqualmie Pass:
Keep in mind that RideshareOnline.com (outdated 2013 data) estimates driving from the Cle Elum/Roslyn area to the Bellevue/Redmond area can cost almost $15,000 per year and that doesn't include vehicle repairs and vehicle failures such as flat tires, broken windshields, blown radiators, towing, rental car, time off work while waiting for vehicle repairs, spending nights in motels when Snoqualmie Pass closes due to avalanches and/or accidents, etc.
AAA (outdated 2017 data) estimates the same Cle Elum/Roslyn area to the Bellevue/Redmond area round trip drive to cost closer to $24,000 per year!
Here is another source to calculate the price of a mile/cost per mile to commute: https://www.commuterconnections.org/commute-cost-calculator/
Cost of "hours" or "the price of a mile" – estimated
Roslyn/Cle Elum to Bellevue/Redmond is roughly 80 miles one way depending on your exact start and stop location.

Add 10+/- miles for Seattle
Google maps tells you that Seattle to Suncadia is 80 miles but that is from exit to exit.

80 miles twice a day = 160 miles

160 miles 5 days a week = 800 miles per week
800 miles per week X 50 weeks per year = 40,000 miles

To travel 80 miles at 70 miles per hour takes a little over 1 hour and 8 minutes.

No matter what route you take you will not average 70 miles per hour without breaking laws.
Round that 1:08 to 1:30 and it's fair to say that it takes about 1.5 hours each way.

1.5 hours each way is 3 hours per day and @ 5 days a week that equals 15 hours per week driving/commuting/sitting in your vehicle
Assuming 2 weeks a year for vacation you will roughly drive 50 weeks per year
15 hours per week, times 50 weeks per year equals: 750 hours per year driving/commuting/sitting in your vehicle
Now take into consideration that those 750 hours of driving/commuting/sitting in your vehicle per year is if you are super lucky and don't have any vehicle or traffic or weather or construction issues
Pictures of I-90 traffic near Roslyn/Suncadia/Cle Elum in the summer: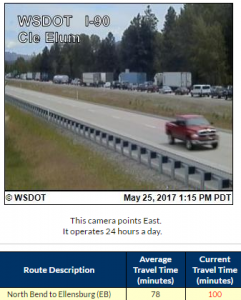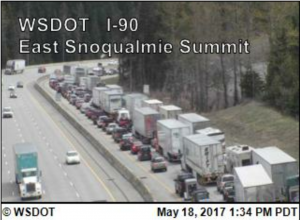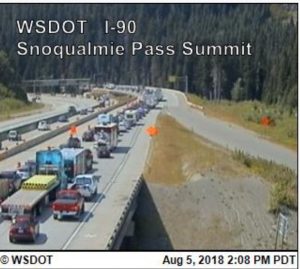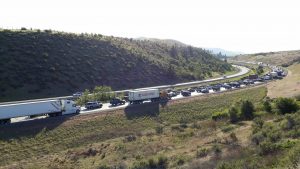 Pictures of I-90 traffic near Roslyn/Suncadia/Cle Elum in the winter: